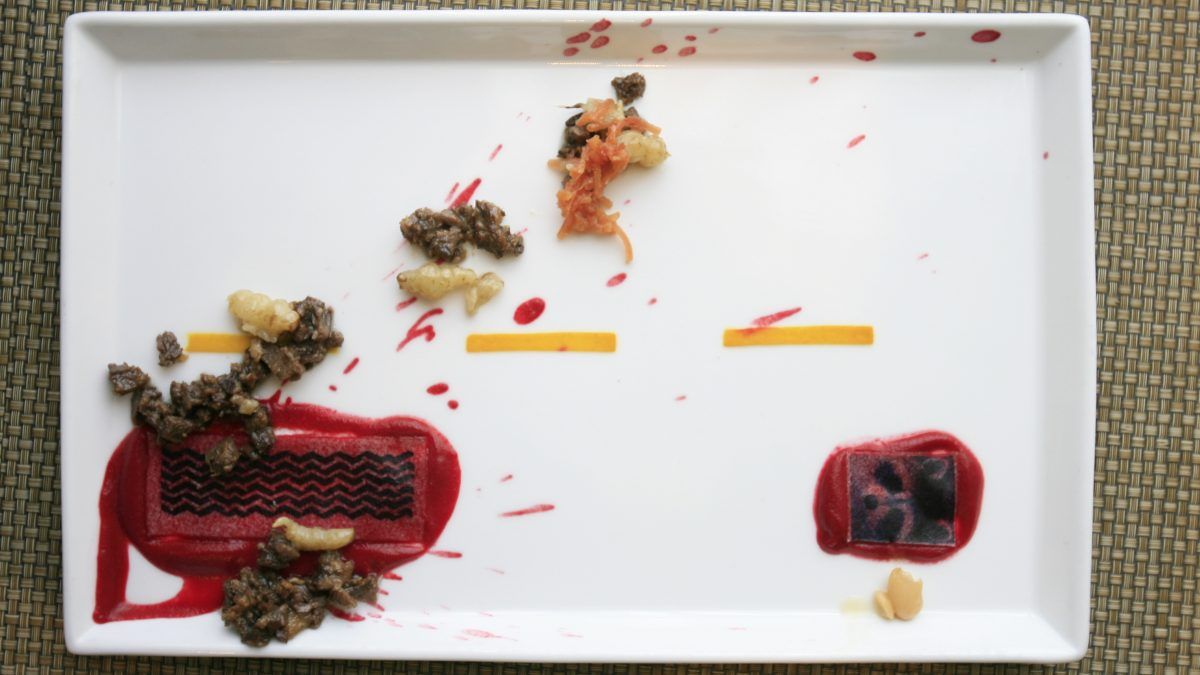 A presentation of raccoon meat resembling the scene of roadkill created by the late Moto executive chef Homaro Cantu and Chris Jones, chef de cuisine, at their now-closed restaurant at Fulton Market on the west side of Chicago, Illinois. (Alex Garcia/MCT/Newscom, published in Reason magazine.)
Once when I was working at an outdoor magazine, the executive editor and I daydreamed a whole series of events for a sort of Redneck Olympics.
One of them was the "roadkill pickup," inspired by the time when, while following him along US 50 in Cañon City, I had seen another car smack into a cock pheasant near Colon Orchards, and I had stopped, hopped out, grabbed it, and driven on as though someone were standing behind me with a timer.
His wife cooked it that evening. It was fine.
At Hit & Run, the blog of Reason magazine, food lawyer Baylen Linnekin applauds laws (including Colorado's) that liberalize the collection of road kill.
Bizarrely, though, many states prohibit the practice. In fact, as I

detail

in my recent book,

Biting the Hands that Feed Us: How Fewer, Smarter Laws Would Make Our Food System More Sustainable

, nearly half of U.S. states prohibit harvesting roadkill. Nevada, for example, conflates roadkill harvesters with poachers. Last year, a Louisiana man

faced

a

fine

of up to $750 and up to a month in jail for

harvesting a dead fawn

.
But help is on the way. Oregon's roadkill law, which I discussed in an

earlier column

, was adopted in 2017 and took effect this January. Subject to certain conditions, the law allows anyone who obtains a permit to

harvest a deer or elk

, which a person can eat, share, or give away. (Sorry, no skunk meat; though it's fine to harvest stink steaks in Idaho.)
Then there are the "concern trolls":
"Our concern really is where people might intentionally hit animals for trophy or food," says John Griffin, senior director of urban wildlife programs with the Humane Society of the United States. "Like an elk or something large. It's incredibly dangerous. For both species."
Does John Griffin know what hitting an elk does to your car, and maybe you? How many people would sacrifice a minivan or SUV for a free meal? He just does not want anyone eating wild game under any circumstances, that much is obvious.